Enrolling students into courses in Moodle at the K-12 level can be an ordeal.  When you have over 1,000 courses and many course categories it can quickly become a nightmare for young learners trying to navigate and find their teacher's course.  Unlike a college or university at the K-12 level we have unique circumstances and situations where scripting enrollment is all but impossible.  Well, we thought there might be a better way to get a student from the homepage to the learning materials and today we can share with you our solution.
Introducing "Easy Enrollment".  This new plugin still under development is ideal for K-12 as well as business and corporate uses.  Here is how it works.  The teacher adds the easy enrollment method to their course.  It will display enrollment codes for the main course and each group.  It will also display a button to download a QR code for the course and each group within the course.  Each code will instantly enroll the student from the site homepage right into the associated course/group.
Easy Enrollment is tightly integrated with our Fordson theme and will not work with other themes unless you are able to embed the course enroll form on the homepage.
Before you go on reading about this amazing new plugin, we'd like to share our demonstration site.
Please head on over to https://moodlesandbox.dearbornschools.org and check out the plugin in action and experience it yourself.  We will keep updated enrollment codes and downloadable QR images on the homepage for you to try out.  You will need to enroll as a Guest User.  Since you are a guest you won't actually be enrolled in the course but the functionality is the same.
Here is the process starting with the teacher activating Easy Enrollment for their course.  Once the enrollment method is activated the teacher can see all the codes and download QR codes.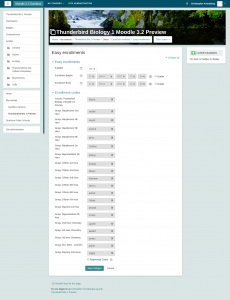 Taking a closer look you will see the clean and intuitive interface.  The code and QR code buttons are right next to eachother.

Once the teacher has the enrollment codes they can distribute them to the students.  The student will enter the code on the homepage of the Fordson theme.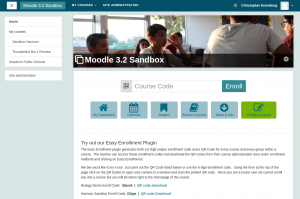 The Fordson theme will display a special form right on the homepage when it detects that the Easy Enrollment plugin is activated on the site.  When using Fordson and the Easy Enrollment plugin there is no other special action required.  The two are tightly integrated.

Enter in the 6 digit code and you will instantly be enrolled into a course or group.  Click the QR button on the left of the course code form and you will see a pop-up which activates your device's camera.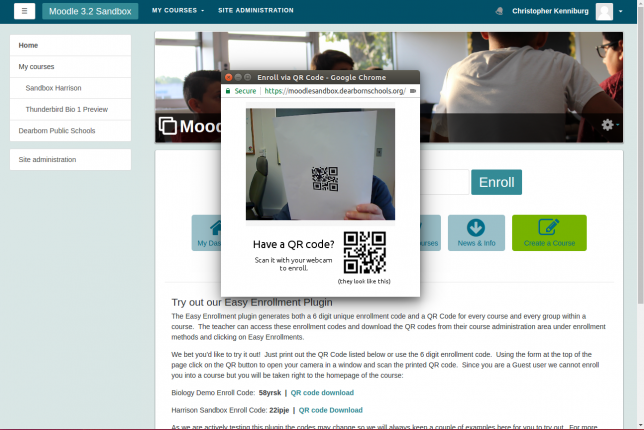 This will also instantly enroll a student into a course.  It really is that simple.
Check out the plugin in action…