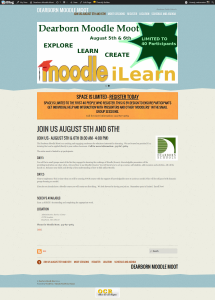 Dearborn Public Schools held a small Moodle Moot last week and had a great deal of fun learning and sharing.  The moot was setup as a two day event.  Day one was a full day of hands-on learning and getting the basics of working with Moodle.  Day two was completely self-guided with teachers building their courses, asking questions, and learning from Moodle experts which were waiting to assist one-on-one.  This allowed for teachers to learn one or two functions in Moodle VERY well and implement that new skill in their course with students.  Teachers had time to explore and become more effective using Moodle.  Some were collaborating in small groups and sharing resources and activities.  Others were exploring unique ways to use Moodle Activities with students.  The Moodle Moot presenters had a good mix of Moodle expertise.
Troy Patterson was the main presenter on day one going over much of the ins-and-outs of all the most popular features of Moodle.  Troy is a dynamic speaker and presents the material in a way teachers understand and can make use of it.  Troy has a variety of skills to draw on during his presentations.  He was a classroom teacher, school administrator, and now leads the technology department at Dearborn Public Schools.  This experience provides a unique perspective on how and why you would want to use Moodle in the classroom.
Robert Harrison was new this year and was a stand-out star.  Robert is a classroom teacher who has taken using technology in directions we didn't anticipate and he really inspired all in attendance to do more and be creative.   Robert's work with Moodle and Mahara is most impressive.  The work done using Mahara for student portfolios is truly inspiring.  One of the most interesting discussions during the Dearborn Moodle Moot revolved around how Mr. Harrison uses rubrics with Moodle Assignments.
I was also at the Moot to provide technical support for most of the Moodle button-pushing.  Moodle is incredibly powerful but with that power comes a lot of buttons and settings.  Having me on hand to lend my technical expertise to the classroom expertise worked out well.  We had a good mix of teaching, administrator, and technical know-how to give attendees exposure to the many facets of blended learning using Moodle.
My top three things learned at the Dearborn Moodle Moot
The Course Import button is VERY powerful for sharing!  Sharing questions, quizzes, and activities is very easy with the Import button.  Discussions revolved around setting up "master courses" so that small groups of teachers can create and share resources at building and district level.
Rubrics breathe new life into assignments and make grading super nice for teachers.  Click. Click. Grade!  We can also share rubrics sitewide which we will be asking curriculum folks about which general rubrics could be used by most/all teachers.
It is easy to get overwhelmed with the tool.  Spending time exploring, tinkering, and sharing is a great way to begin small and grow as your skills and comfort with the tool improve.