Mahoodle
For those that do not know Mahoodle refers to the connection between Moodle and eportfolio software called Mahara.  Students can go from Moodle directly to Mahara without ever signing in as the two systems share logins.  In essence the two systems function as one allowing for a more robust online learning environment that is needed for today's learning expectations.
Download the themes:
https://github.com/kennibc/mimoodle
https://github.com/kennibc/dbnmahara
*** Before uploading to your server:  Unzip and rename Moodle folder to "mimoodle".  Unzip and rename Mahara folder to "dearborn".
About the Michigan Moodle theme design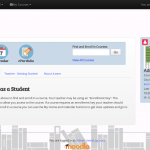 I have been working on a theme that combines some of the awesome features of Essential, Aardvark, and More.  I called it Michigan Moodle for lack of a better name for now.  We really wanted a design that is simplistic in that it doesn't take long to determine where you need to go and what you need to do.  Sometimes Moodle can be overwhelming.  This theme attempts to minimize distractions with a very muted color scheme.  We also eliminate all homepage elements common in Moodle and instead use the homepage topic 1 area to add in our own custom HTML.  We also only use the Logged in User block on the homepage to keep clutter to a minimum.  We believe that once the user gets to Moodle they are there to participate in a class and that the content of the class is what is important.  With that in mind we devised a homepage that consists of 4 elements:  My Home, Calendar, ePortfolio, and Search and Enroll in Courses.  Also found on our homepage is a small section that deploys the "tab" functionality of bootstrap and jquery.  This allows information to remain hidden until the user wants to see it.  By default the tab section shows a brief paragraph  explaining how students can search and enroll in a class.
It has the following features:
Based off core theme "More"
2 Column layout
Google Font Selector – Essential
Custom logo
Custom colors and backgrounds page
Smart navigation with My Courses and My Dashboard drop down menus – Essential
Bootstrap responsive design
Stylish block icons to enhance visuals – Aardvark
You can download it here: https://github.com/kennibc/mimoodle
Be sure to rename the main folder to just "mimoodle" before uploading the zip or folder.
Michigan Theme Overview of Features:
Simplified Homepage with Michigan Theme and a matching Mahara theme: