The State of Michigan is requiring all public schools to include a 150px by 150px logo to be displayed prominently on the District homepage.  The image is to link to important school district budget documents for the public to see.  It's called Budget and Salary Compensation Transparency Reporting.  We now have this logo/badge on our homepage and are gathering all the necessary documents to be in compliance.  There were some instructions to only use the logo provided which looks like this: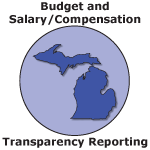 Here are my changes to make the graphic more appealing: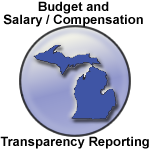 I think the small changes make it look a little more appealing.  I tried to keep it simple enough that it didn't look totally different than the original and kept the same colors for the most part.  I just wanted it to "pop" a little more than the original.   You can see this on our district website.  Hopefully they won't be too upset for changes made to the badge.  If it turns out we can totally alter the colors, then I would make the badge colors that blend nicely with our website theme.